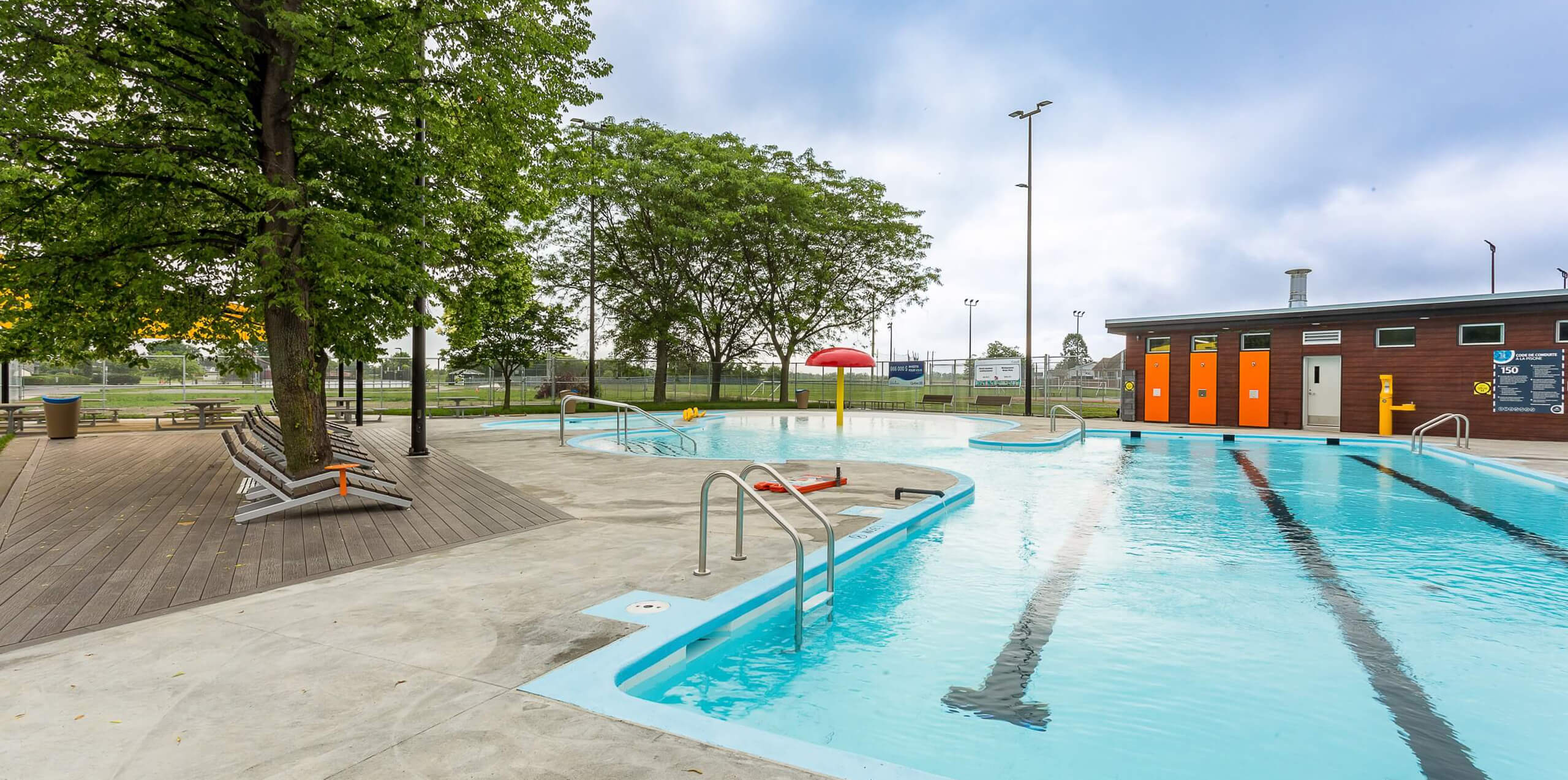 Category:


Sport-recreational-community
Location:
Gatineau
Year:
2022
Jack-Eyamie Exterior Public Pool
The city wanted to build a new multi-purpose, multi-generational aquatic pool in the Masson-Anger sector of Gatineau to replace the old, disused pool. The aquatic basin included a wading pool with a beach entrance, a whirlpool bath, and a 20m-long lap pool. The project also included landscaping around the pool, a shaded picnic area, a relaxation zone, and the integration of street furniture. The building housing the old pool's changing rooms and mechanical systems was to be preserved.
In designing the project, we took advantage of unique features of the Jack-Eyamie Park: the existing mature vegetation, the orientation of sunny areas, the visibility potential of the new pool from the street and sports fields.
The picnic area, covered in bright yellow canvas, is set in the corner of the site, prominently visible from Du Bassin St. and the park's playgrounds. The wading pool, main family water feature, is set in the center of the site, clearly visible thanks to a red umbrella-shaped structure shooting streams of water. The whirlpool bath next to it allows parents to relax close to children. Opposite the changing rooms, the lap pool heralds a more technical area aimed at adult customers. The outdoor showers, installed on the façade of the existing building along the main circulation path at the exit from the changing rooms, are signaled by new orange cladding panels. At the center of the relaxation areas, a large composite wood terrace with deck chairs benefits from the natural shade of trees, which have been preserved and integrated into the design.
All facilities, from the changing rooms to the pool and including the street furniture, provide barrier-free access to this recreational facility. Since its opening in 2022, this multifunctional pool has been Gatineau's busiest.
Photography by Urszula Muntean